About Us/Our History
Today, Get Booked is a clothing boutique featuring many of the brands and styles favored by forward-fashion men seeking the hottest and cutest look in swimwear, underwear, harnesses and more. But Get Booked has not always been in the fashion business. Get Booked represents a decades-old history of Las Vegas retail. Get Booked is the longest-lived LGBT retailer in Nevada, located in the Paradise Plaza shopping center in Las Vegas on the corner of Paradise Road and East Naples Drive. This area is known as the Fruit Loop for its cluster of gay-oriented businesses. While more famous retailers across the country, such as A Different Light and the Oscar Wilde Memorial Bookshop, have closed as LGBT literature has gone "mainstream," Get Booked has survived for more than 27 years. Part of that reason is that, as gay author Michael Thomas Ford has pointed out, "There's more to be found in a gay store than just something nice to read." Just walking into a gay store can be an act of liberation, and such shops often serve as welcoming space for the queer community in otherwise hostile environments.
R & R Assordid Sundries
In the years before Stonewall, gay literature was unavailable in Nevada outside porn shops, and there were few commercial bookstores willing to stock such material. The first establishment in Las Vegas to offer LGBT merchandise and to advertise openly as a gay shop, was R&R Assordid Sundries. R&R opened February 14, 1984 at 4637 Paradise Road next door to Gelo's nightclub, then closed in November 1985. R&R was ahead of its time, was more gift shop than bookstore, and was not much patronized by the Las Vegas gay community. Opening at the outset of the AIDS epidemic in Nevada didn't help. It would be several years before the chain bookstores in town such as B. Dalton, Waldenbooks, and, later, Barnes & Noble and Borders, began stocking gay sections.
Bright Pink Literature
But in 1987 Rob Schlegel, publisher of the Bohemian Bugle and one of the community's greatest activists, opened Bright Pink Literature, the city's first specifically commercial LGBT bookstore. Schlegel's interest in opening such a store was born when he visited A Different Light in Los Angeles and wondered why Las Vegas couldn't have something just as wonderful. It could — on December 11, 1987 Schlegel opened Bright Pink in a small office space connected to the Body Shop bar at 4310 South Paradise Road. Schlegel came up with the name Bright Pink Literature and its pink triangle logo as an homage to the book, The Men With the Pink Triangle, about Nazi persecution of gay men.
Schlegel kept over 200 gay titles in stock and particularly tried to carry a wide selection of lesbian literature. He filled a bowl on the counter with free condoms as part of the community's fight against HIV. Bright Pink was a welcome addition to the growing Las Vegas gay community. Bright Pink's location next to the Body Shop, however, was problematic: patrons wandering in from the bar spilled their drinks on the merchandise, and cigarette smoke turned the books and t-shirts yellow. In July 1988, Schlegel moved Bright Pink Literature to Paradise Plaza at 4640 Paradise Road, next to the Buffalo bar. Schlegel had been there only a month when the Gipsy nightclub across the street burned down, which robbed the Bohemian Bugle of its biggest advertiser; it was advertising revenue from the Bugle which subsidized the bookstore. Faced with having to close Bright Pink, and perhaps shut down the Bugle as well, both were saved when real estate investor Ed Uehling gave Schlegel $5,000 to keep the bookstore - and the renamed Las Vegas Bugle -- going. When Uehling and his lover, Marlon Tinana, bought the Gelo's nightclub shopping center across the street from Paradise Plaza, Schlegel moved Bright Pink into the storefront where R&R Assordid Sundries had been. Bright Pink's grand re-opening on February 11, 1989 featured an autograph reception by famed author Sylvia Pennington.
In 1990, Schlegel moved the bookstore into more spacious quarters in a renovated cinderblock duplex behind the Gelo's shopping center. Bright Pink filled 1400 square feet with more than 5,000 books, had a rainbow flag hanging outside the door and rainbow windsocks fluttering in the breeze. Schlegel expanded his inventory to include queer-themed stationery, cards, t-shirts, buttons, jewelry, and other merchandise.
Bright Pink Cinema
In association with Bright Pink Literature, Schlegel established a gay and lesbian film festival he named Bright Pink Cinema, which debuted on April 20, 1991 and ran for six weeks at the Metropolitan Community Church. Among the films Schlegel presented were many which have become classics of LGBT cinema: Before Stonewall; Billy Turner's Secret; Fun Down There; and the gay African-American documentary Tongues Untied. After Bright Pink Cinema, Las Vegas would not have another LGBT film festival until the annual Neonfest, first presented in 2004.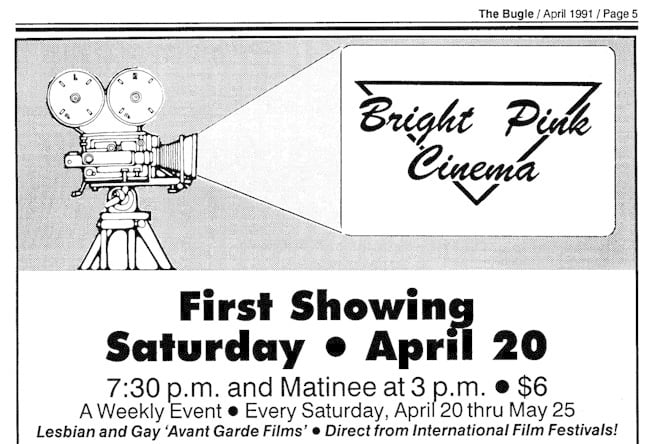 Target for Harassment
The more successful Bright Pink Literature grew, however, the more of a target it became for the straight community. When Schlegel agreed to sell the book Las Vegas Post Mortem--a sensational exposé about the Las Vegas Metropolitan Police Department -- Metro cops began harassing Bright Pink's patrons and threatened Schlegel. And when Ed Uehling and Marlon Tinana revealed plans to turn their property into a "gay district," neighbors in apartment complexes behind the area, who already hated the nearby gay clubs, told the Clark County Commission that Bright Pink was a porno shop. Uehling's and Tinana's plans were rejected. That rejection forced Bright Pink in August 1991 to move out of its spacious duplex and into a much smaller storefront around the corner at 4643 Paradise Road—the county gave Schlegel less than a week to do so. Even then, harassment from the county didn't stop: a large vacant lot next door to the shopping center, which the gay community used as a site for overflow parking, was fenced off. Business at Bright Pink dropped dramatically. Bright Pink limped along another year and a half before Schlegel decided to sell it to Marlon Tinana and Wes Miller, who had moved to Las Vegas from Ohio in 1990. Get Booked officially opened its doors on May 15, 1993. Tinana and Miller expanded the shop, added jewelry, gifts, and videos (yes, the VHS kind), and enhanced the book and magazine inventory with the help of New Yorker Raul Mangubat, whom the two met while all were at the March on Washington in April 1993. Raul moved to Las Vegas from New York in November 1994 to run the bookstore. By 1995, Miller had become sole owner.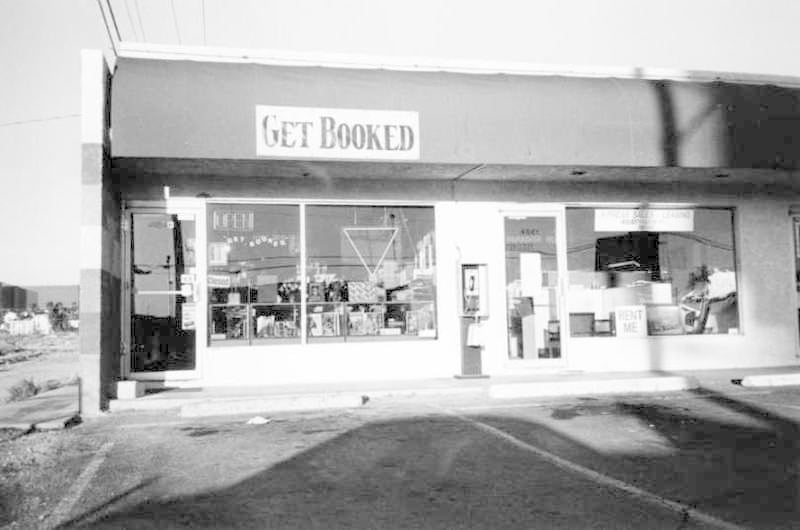 Sting Operations & the name Get Booked
When Wes Miller and Marlon Tinana took over Bright Pink Literature, they changed the name to Get Booked in honor of Wes Miller's 1992 arrest in a Las Vegas Metropolitan Police sting operation that targeted gay men along Paradise Road.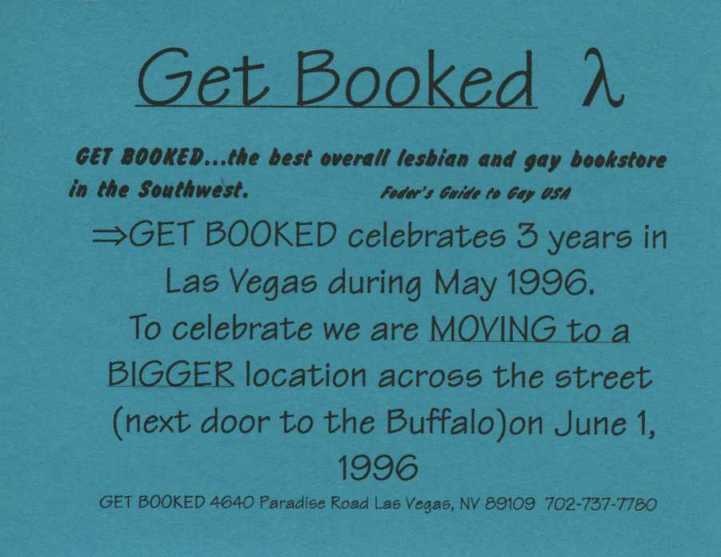 Sting operations against gay men in Nevada had long been a favorite tool of threat and harassment, particularly so long as the state's sodomy law was still on the books. During the summer of 1992, the Metro vice squad set up several such operations in the Las Vegas Valley, leading to the arrest of gay men in the Las Vegas Athletic Club, Jaycee Park, and Nellis Air Force Base. Schlegel published a story about these vice operations in the July 1992 Bugle warning the community how to protect itself from Metro. The Paradise Road sting involved undercover vice cops trying to maneuver gay men around the Fruit Loop intersection into a sexual liaison, and then busting them on charges of soliciting for prostitution or infamous crime against nature.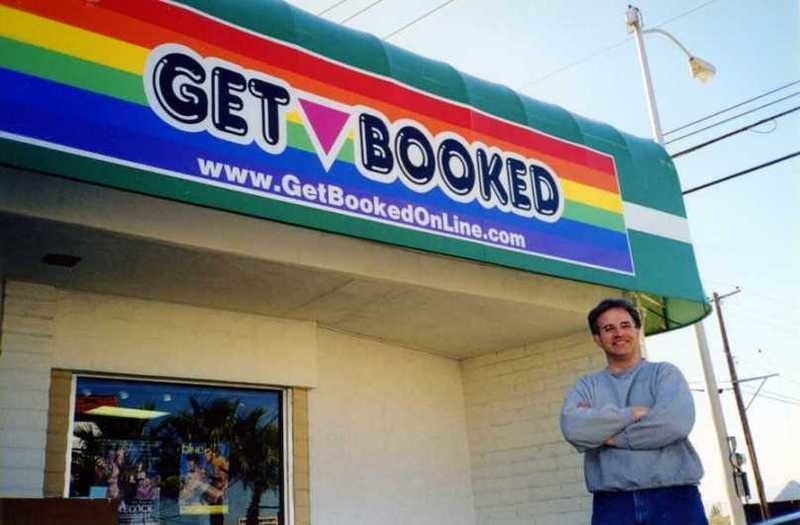 Wes Miller was arrested on June 25, 1992 when he was approached by a vice cop posing as a married tourist in Las Vegas for a "chef's" convention and wanting to explore his "gay tendencies." Miller suggested the man visit one of the nearby bars, Angles, and agreed to walk with him. Before they got to the bar, two Metro squad cars raced out of side streets; the undercover cop disappeared, Miller was handcuffed, taken to jail, and "got booked." When the cops examined Miller's personal effects they discovered he had only $1.75 in his pocket and realized he was not soliciting for a hustler. Nevertheless, they threw him in a holding cell with several other gay men arrested that night from whom Miller found out what was going on. Miller's friend Denise Thompson bailed him out, he recorded an interview with several leaders from the gay community including lawyer Kevin Kelly, and all went to Metro the next day with evidence in hand. Then-sheriff John Moran claimed he knew nothing about the vice squad's activities. But with Miller's interview in hand exposing Metro's blunder, and Miller's willingness to go to open trial and expose what Metro was doing, the group convinced Moran the operation had to stop. Despite Miller's willingness and hope to go to trial and expose Metro's unsavory practice, all the charges against Miller were dropped, and Metro has never again conducted such harassing stings. It is important to note that nearly 30 years later, Get Booked and Miller enjoy a pleasant and positive relationship.
A Safe Haven
The embarrassment of that and similar incidents for members of the community convinced Wes that Get Booked needed to be a safe haven, a place gay people didn't have to worry about vice officers lurking in the shadows to entrap and arrest them. Get Booked needed to be a place where members of the community could obtain resources beneficial to the growth and development of self esteem. Get Booked became an anchor for the Las Vegas gay community where artists, writers, performers, musicians and political figures gathered for autograph receptions, concerts, art shows and other social events. Among those hosted at Get Booked in the 1990's and into the 2000's were Robbi Sommers of Naiad Press; gay ex-FBI agent Frank Buttino; famed impersonator Frank Marino, who signed his autobiography, His Majesty, the Queen; Leslea Newman, author of Heather Has Two Mommies; Dr. Charles Silverstein, who wrote The Joy of Gay Sex (and who became a regular visitor and guest); historian Karla Jay; and famed novelist Patricia Nell Warren, author of one of the best known gay novels. The Front Runner.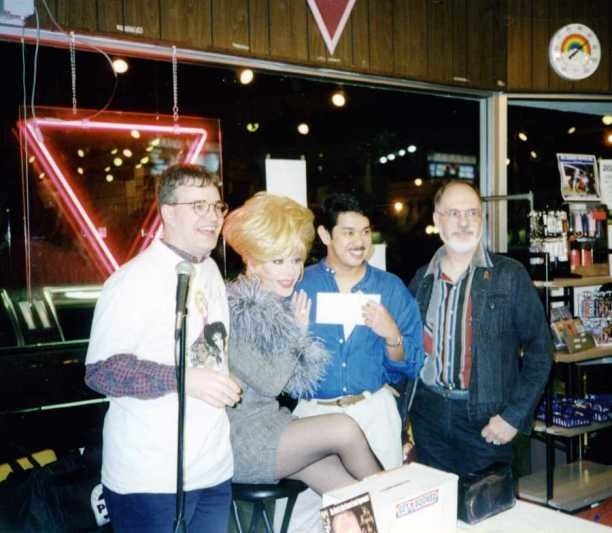 Get Booked has flourished under Wes Miller and Raul Mangubat, outliving several competitors and at the time of this writing remains one of gay Las Vegas's most important resources. Miller and Mangubat understand that the ability to "adapt" and "change with the times" are the secret to ongoing success. For that reason, the Get Booked of today barely resembles the Get Booked of the 90's and 2000's. They both recognize that books are now ordered digitally online and read on your Kindle, DVD's are watched on your phone, and magazines and greeting cards are essentially relics of a bygone era. Today, the store is a cutting-edge clothing boutique featuring many of the brands and styles favored by men of forward fashion. With a healthy respect for their past and a keen eye towards the future, Wes and Raul are always committed to ensuring Get Booked remains a relevant and vital contributor to the community.